Gordon Hendricks is Elvis Website
WordPress Website Development including Ecommerce & CRM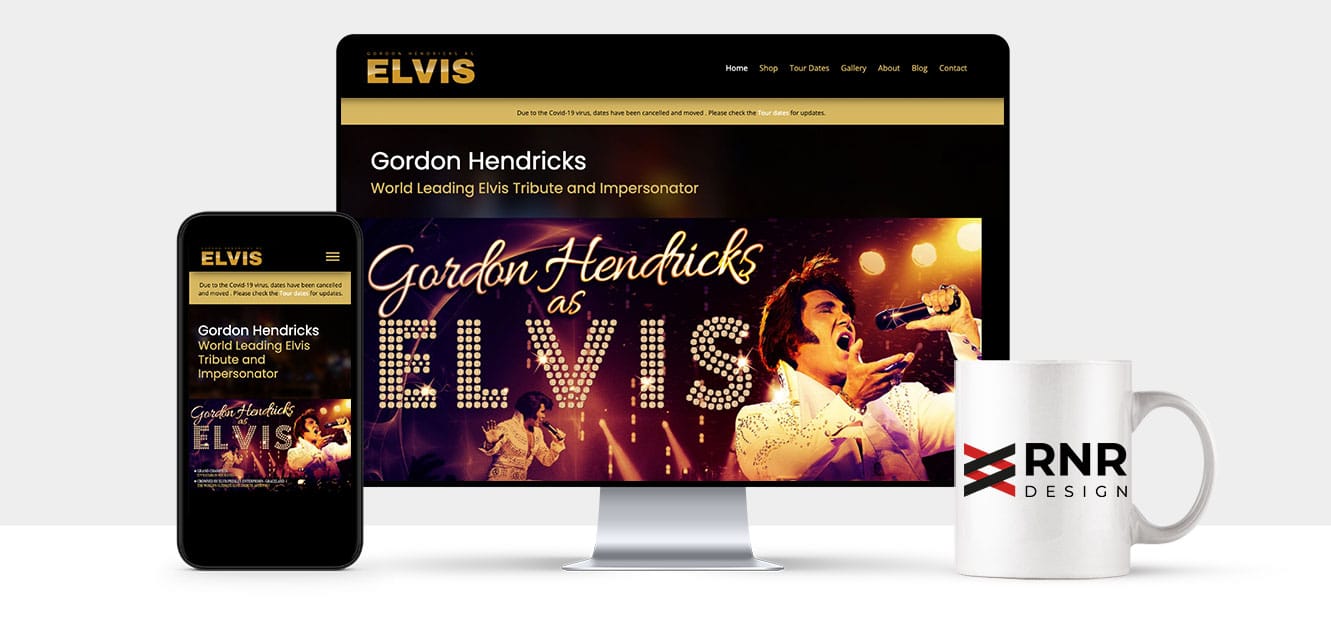 Due to the Coronavirus, the tour Gordon had planned to attend around the country was cancelled! This was a huge issue when it's your main source of income, and not only just for Gordon but the people and management that supports him.
Therefore, I was approached to develop the existing website to turn it into an ecommerce website, with the ability for fans to purchase CD's or downloads of Gordon's music.
An ongoing strategy was required to maintain and develop the content of the website, to coincide with live performances on Facebook, grow the online reach and ability to market to new and existing fans.
The existing website had been built in WordPress, but the existing theme was out of date, had no easy way to update and wasn't intuitive enough to easily develop the site and work as an online store. Plus, there were plugins that were required by the website theme that brought no benefit to the site, only adding additional resources that would impede the sites performance.
The existing website was on a shared hosting platform, which worked fine for the website as it was, listing news and tour dates. To handle the additional resource the site would face with managing multiple orders and visitors when new albums were released, it was moved to a more dedicated server.
To start with, I rebuilt the website using a more familiar framework that allows easier management of content, creation of pages and sections and changes by the management. For this we used Beaver Builder, a well known page builder used on over 1 million websites. It's secure and always up-to-date, its quick and easy to use for anyone wanting to make changes to a website, plus helps speed up development time.
Once the site framework was rebuilt, Woocommerce was added (eCommerce platform built for WordPress) as well as a Secure Sockets Layer (SSL certificate) to make sure that the site was secure and customers making purchases through the shop could be happy their payment details were safe to add to their orders. Along with this, we also added Stripe and Paypal payment services for managing the customer orders.
To go with the orders, the site needed the ability to create the correct postage cost, as orders were to come from UK customers, but also customers from Australia and Canada! A reputable plugin was researched and set up to handle this, as well as creating packing slips and postage labels without having to manually create these from the orders.
The website was set up to go live with the ecommerce implementation at the end of May 2020, and in the first weekend turned over a substantial amount of sales!
The results show how the improvements to the website and the marketing campaigns have vastly improved the websites interaction:
Year over Year Growth of Sessions
+82.44%
New users
+62.69%
Average Email Campaign Open Rate
57.0%
Average Email Click Rate
11.8%
Ready to get started?
Our focus is all about your business success & achieving your goals.
If you're ready to make a start, send us a website project enquiry.